About
The primary focus of the ITI Northern Home Counties Regional Network is unapologetically and unashamedly a social one. The aim is to give local linguists the chance to get together, offer support and exchange ideas in a convivial setting - usually accompanied by food, be it at a member's home, in a pub or restaurant or outdoors. That's not to say we don't also arrange cultural and educational visits from time to time, or even the occasional talk by a guest speaker. First and foremost, however, the focus is on having fun.
Target members are ITI members of all categories in the counties of Bedfordshire, Buckinghamshire, Cambridgeshire, Hertfordshire and Northamptonshire as well as in Luton and Milton Keynes.
Times, dates and venues vary to give everyone the chance of attending an event near to home from time to time. Before the Covid pandemic, we tended to meet up every other month and we are now looking to resume events once more.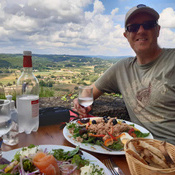 David Barrett
Is a Qualified MITI member of ITI
Has a BA (Hons) in Russian & German,
Has a DipTST qualification in German, Russian, Danish, Norwegian and Swedish
Owns and manages Barrett Translations Limited, an ITI Corporate Member.