ITI East Midlands Regional Group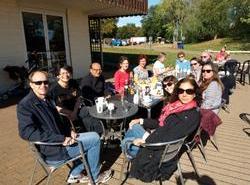 Tell us about the East Midlands Regional Group
We are a regional group with around 40 members. We meet physically once a month in a different part of our region and also have an online Yahoo group. We meet on the first Wednesday of the month with additional walks and workshops throughout the year.
What is the aim of the group?
Our aim is to provide social opportunities for translators and interpreters to meet as well as running CPD workshops across our region.
What sort of events do you organise?
We arrange social gatherings in the pub and country walks. We have recently organised an SDL Trados workshop and an event in conjunction with the University of Leicester. In the past we have welcomed Ros Schwartz and Sue Leschen to come and lead our workshops. If you have an idea for a future CPD workshop, we'd love to hear from you.
We recently held our annual walk. In previous years we have visited Derbyshire and Nottinghamshire, but this year's walk took us to the south of our region to Rutland, the smallest county in England. 15 of us met at the Harbour Café on the edge of Rutland Water, enjoying lunch overlooking the water. The weather was absolutely glorious and we were able to sit outside and soak up the sun.
One particularly enjoyable aspect of the walk is that people feel able to bring along their partners, children and their four-legged friends too. After lunch, we went for a walk along the edge of the water, returning to the café afterwards for a well-earned cup of tea and slice of cake.
Why should I join?
You get to meet other translators and interpreters living and working in your area. We are a very friendly group and welcome newcomers. Whether you are well-established or brand-new to translation or interpreting, we'd love to welcome you to one of our events.
Contact us
To find out more about the East Midlands Regional Group, visit our website.
To join, please email our membership secretary at e[email protected]
Find a Professional
The ITI Directory is a free search facility to help you find the professional translator, interpreter or language service provider that can best help you with your language requirements.
You can search on a number of criteria, such as language pair (e.g. German to English), specialisms (e.g. marketing, pharmaceutical, legal) or specific name of the individual or business.
All individual members listed in the ITI Directory are Qualified members (MITI) or Fellows of ITI (FITI). This means that they have passed the ITI translation or interpreting assessment in the given language pair.
Please note: membership of one of our Networks or Regional Groups does not constitute membership of ITI.