ITI Profile: Andrea Alvisi MITI
As is the case for most translators and interpreters, I have always been fascinated by languages. However, I only developed a true passion for interpreting (and translation) during my undergraduate studies in Italy.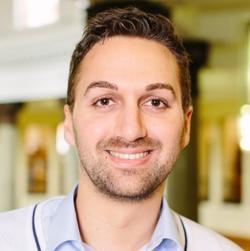 I tried a 9-to-5 office job in the UK, but it was not for me. With all its ups and downs, I truly enjoy being a freelancer. And working part-time at the University of Leeds means I get the best of both worlds – and can guide the newer generations into this fascinating world.
I will be frank: being an ITI member did help me to get more work. However, there is much more to membership than that. Thanks to the ITI and its various regional (YTI) and subject networks (Italian, Interpreters Development Network) I met plenty of interesting, lovely and all-round talented colleagues and friends. Networking is key and that is exactly what you can do at the various social and CPD events organised all over the country. Once colleagues get to know you, they may recommend you for work - terms and conditions apply, of course.
I most surely do and always tell clients who approach me for odd language combinations to use the ITI directory. And on that note, colleagues, LSPs and clients alike regard the MITI status as a true seal of quality.
The benefits you'll get from joining the ITI will vary greatly depending on your language combination(s), where you live, your experience, specialisation(s), aspirations and interests. That said, I would highly recommend it if you want to get out of your comfort zone, meet a lovely bunch of like-minded colleagues and, why not, have fun, too!