ITI Profile: Clive Rodgers Affiliate
Clive Robert Rodgers was recognised as one of the Best in Class students at the conclusion of the latest SUFT programme. Here we talk to him about SUFT, his work and his hopes for the future.
When and why did you decide you wanted to work in languages?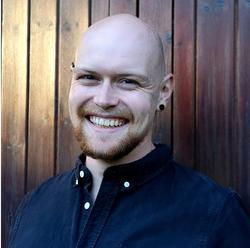 It was during the MAAVTS course at the University of Leeds that work in languages became a career path, but I think the seed was sown in my late teens. I remember watching Luc Besson's Taxi with the subtitles on and being dismayed at how bad they were… and thinking I could do better!
I'd grown up with an interest in French in particular, with my mum having lived there and with family holidays to Brittany and Normandy, and I began learning it early in primary school. In secondary school, as I learnt Latin and then Spanish, what had started as an appreciation of the lyricism of French grew into a keen interest in etymology and the shared linguistic traits of the languages I knew.
And why translation?
By the time I began university, I was already deeply enjoying access to the cultural output of France and Spain, appreciating everything from the way things are structured syntactically to the differing cultural reference points. But two things in my year abroad really drove home that the art of cross-cultural communication could be something I could pursue.
Living and working in the Ardèche region of southern France, I began to switch fluently between French and English, using whichever felt more appropriate and communicative. I began playing with French, learning to shape it as with my native tongue, and I realised that exploring flexibility, difference, similarity and styles of communication was something I revelled in. I also began reading a French sci-fi noir series. It was the first time I'd come across something of that genre in a foreign language that excited and intrigued me as much as it would in English. I devoured the series, and translated part of it for my MA dissertation.
What do you think is most challenging about starting a freelance translation business?
For me, the most challenging part is the multiplicity of things that a career as a freelancer entails. This includes the varied practical aspects: how to create invoices and order confirmation pro formas, what to look for in a client's terms of business, how to advertise yourself, where, and to whom, and how to charge for a project and get paid. Equally important, and perhaps harder to approach, are the overarching strategies required: how to go sustainably from being a completely unknown quantity to becoming a visible part of the vibrant ecosystem of language professionals, and how to make sure your professional growth goes from being an idealised trajectory to something actively and tangibly in development.
There's a lot more than just translation involved, and the SUFT course excels at easing you into ALL of it.
Do you have any specialisations?
As an audiovisual translator, I specialise in the technical requirements entailed in producing a translation of something that is more than just the written word. Subtitling in particular is becoming more and more visible, if you'll pardon the pun, and I focus on ensuring it does not detract from the experience of the viewer by being obtrusive, clunky, or just plain incorrect; rather, that it enhances the experience, enabling access to foreign language media while being sympathetic to both the source media and the viewer, ensuring the content shines through as intended.
I've also pursued my interest in scientific innovation by specialising in medical and pharmaceutical translation. One of my first projects was on a trial of a melanoma drug, and I was thrilled to see it make it to market a few years later; it's now helping people around the world. This is exactly why I relish the specialisation, as there is a direct link between the part I play in facilitating access to international research, and real-world health benefits.
Why did you decide to do the SUFT course?
I had come to the end of my first year as a freelancer. I had regular work with a few clients, and some other projects here and there, but I didn't feel as if I were really IN the industry, so to speak. I had joined the ITI to start getting an idea of what professionalism meant in more concrete terms, but when I spotted the course, I knew it was exactly the right way and the right time to get guidance from people who were not only on the ground, but were experts whose vast experience and knowledge were available to me. What a privilege!
What did you find most useful about the course?
The level of interaction. Each week's task was not only geared towards practical concerns for a freelance translator, but also designed to be open-ended and forward-looking. I knew it was going to be super useful from day one, when we were helped to jump in at what felt like the deep end, interrogating how we saw ourselves as people, as professionals, and how we wanted to develop this in the future. Crucially, after every task, we went through our work with the expert tutors, with live, one-to-one feedback, and with the opportunity to discuss and learn from the work of our classmates, too.
You were recognised as SUFT Best in Class – how did that feel?
I couldn't quite believe it. I'd spent the whole term asking what I thought were niche questions relating only to subtitling, but it was my engagement and approach for which I have been commended. Communication helps gel our community together, and conscientiousness is inherent to translation, so for me to be rewarded for those things is surprising and humbling.
Where would you like to be in your translation career in five years' time?
As this year begins, the variety of things in my inbox has exploded, and it's looking like a fun year to come. I would love that to continue, for my career to be varied and at the cutting edge of where the subtitling and translation industries go in the future. I'd like to expand my TV work into film, both short and feature-length, and also into the burgeoning field of VR. I'd like to continue and develop my work in scientific translation, particularly into physics and astrophysics, helping more people understand more of the world. I'd be ecstatic if I could translate those French sci-fi novels for publication. Follow me on Twitter or LinkedIn
What would be your perfect holiday?
Last summer I took a road trip from the UK to Barcelona, and needless to say, it was a blast, in spite of the ferry I'd booked setting itself on fire the day before setting off, forcing a radical change of route. There are many, many places along the French and Spanish coastlines of the Bay of Biscay that I'd like to visit next time. I can take my laptop and my mountain bike anywhere, however, so Portugal, southern Spain and the French Alps are all calling. Of course, chatting to whoever you meet is the real pleasure, but people always suggest somewhere tantalising and new, so my perfect holiday ends up changing every time!