The return of ITI Stars
ITI is updating its roll call of ITI Stars – inspiring translators and interpreters from the past or present – and we are inviting your nominations.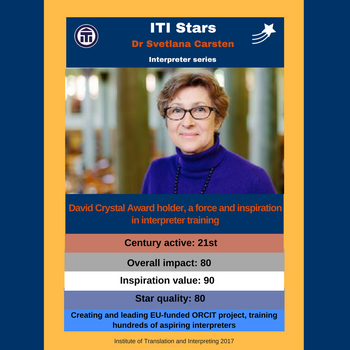 Three years ago, we created a collection of ITI Stars cards, featuring individuals nominated by ITI members. But we are sure there are many more we can recognise, and that there will have been significant achievements since we originally launched this initiative. It would be wonderful to hear about translators and interpreters who are achieving great things now.
We will be launching our new cards for International Translation Day on 30 September.
To tell us who you think we should add to our ITI Stars card pack, please provide the following information (see image on this page for additional guidance):
Name
Photo/image
Summary of achievement – max 15 words
Century active
Overall impact 1-100
Inspiration value 1-100
Star quality 1-100
Most important work – max 15 words
And send your nominations to [email protected] by 5pm on 23 September.
Our current roll call of ITI Stars
Translators
Albin Tybulewicz
Anthea Bell
Alfred Birmbaum
Elizabeth Carter
N J Dawood
Constance Garnett
Robin Gill
Yasmina Melouah
Bishop William Morgan
Harry Rohwolt
Dorothy Sayers
Ros Schwartz
CK Scott-Moncrieff
Mary Somerville
John Sykes
Rifa'a Al Tahtawi
St Jerome
Interpreters
Svetlana Carsten
Alexander Drechsel
Levitical Interpreters
Jemina Napier
Harry Obst
Shu-ilishu
Franz Pochhacher
Siegfried Ramier
Viktor Sukhodrev
Unknown/Horemhab's interpreter
In a lighter vein – fiction
CP30
Missandei
Honey Huan
Silvia Broome