Reaching out for better understanding
The ITI Outreach Champion award recognises the work of an individual or organisation in spreading the word about the vital role translators and interpreters play in the world.
Translators and interpreters are not renowned for pushing themselves into the limelight, and very often, not being visible is considered a sign of success within the profession. However, this must be balanced against the need to raise awareness in the broader community of what professional translation is, and of its value. Just as people also need a better understanding of the vital role of interpreters and the skills involved in their work.
Everyone can play their part – in a big or a small way. Taking the time to do this both helps the translation and interpreting sector, and also enriches those who are the recipients of this outreach work. So, we feel it is only fitting to recognise an individual or organisation that is already doing great things in this area with ITI's Outreach Champion award, first introduced in 2021.
This award is for an individual or organisation that has successfully promoted the value and importance of professional translators/interpreters, and/or the powerful, positive impact of communicating in other languages for business and society in general, beyond the translation and interpreting sector.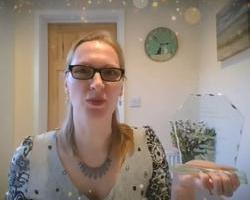 Our Outreach Champion in 2021 was Claire Storey for her considerable dedication in pursuing a variety of outreach activities over a number of years.
These include volunteering for Business Language Champions, which aims to inspire secondary school pupils to continue with languages and explore language-related careers; and for Our Future Derby, participating in careers events at local primary schools. She has also been active on the World Kid Lit team since 2018, seeking to grow and support the community interested in translated books for young people.
Asked what it was like to be recognised for her outreach work Claire told us; "Unlike other ITI Awards, you cannot self-nominate for the Outreach Champion Award. While I knew that I had been doing a lot of outreach activities, I felt really touched that two colleagues who I admire and respect had taken the time to nominate me for the award. For ITI to follow that through and present me with the award was really special."
Do you know someone whose work also deserves to be recognised? It could be someone who has helped to give the business community a better understanding of translation and interpreting; or who has enthused young people about working in languages; or who, through their voluntary work, has significantly increased awareness of the importance of quality translation or interpreting; or who, by making consistently excellent use of their language skills even though these are not a core requirement of their job, has inspired others and helped them to understand the benefits of languages.
This is not a teaching award, and entries should not be submitted for teaching achievements. It is also not for activities aimed at those who are already 'sold' on language skills and work, for example translation studies students.
It is very much about raising awareness in the wider business and general community.
Since winning the award Claire has continued with her outreach activities and explains that while she would have done that anyway, "It's great to have that work validated by ITI. It gives me more motivation to keep shouting about languages and to encourage more translators and interpreters to get involved. I'm really pleased that Outreach is seen to be important and is valued in this way by our professional body."
Eligible entrants must be nominated; they cannot nominate themselves. So, if you know of someone who goes above and beyond to reach out to the wider community and spread the word of what our profession is about, do them the honour of nominating them.
As Claire says, "Outreach work is often voluntary and unpaid so to gain recognition from peers working within the profession really means a lot."
Entries for the ITI Awards 2022 are now open. Full details of how to enter or make a nomination can be found by following the link below: