ITI Profile: The Lingoes Ltd - Language Service Provider
The Lingoes ltd was borne out of the experience of an ex-civil servant in Hong Kong who spent the first 5 years of her English and Chinese translation career in an over 400-strong in-house team of government translators back in the 1980s.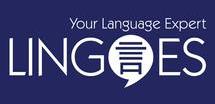 Every translator in a government department began their profession as a junior colleague, whose output was always vetted by a senior colleague, before the translation was typed out by calligraphers who punched out each and every Chinese character on paper using mechanical Chinese typewriters. Those were the days before digitisation.
To Winnie Joseph, the founder of The Lingoes Ltd, an acceptable piece of translation must always be the result of teamwork. Her new colleagues all have to work from the ground up, learning their ropes from those who are more senior and experienced, no matter how academically qualified they are when they join the team. As she believes that learning from their peers is crucial in the career development of any translators, she also encourages her colleagues to join professional bodies like the UK Institute of Translation and Interpreting to take advantage of the many training and networking opportunities they offer their members.
By becoming a corporate member of the ITI, Lingoes has made a statement on how much it emphasises the importance of continual self-development, while advocating the value of mutual support in an industry where weight has often not been given enough to teamwork.
The Lingoes Ltd - Language Service Provider