ITI AGM celebrates strong performance despite a difficult year
ITI's online AGM took place on 9 October 2021, with members joining via Zoom from all over the UK and Europe.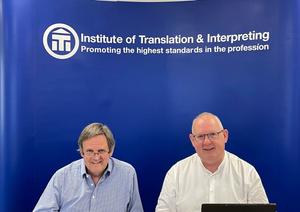 Having conducted the AGM from their home offices in 2020, the ITI Chair and Chief Executive were able to attend together from the ITI offices in Milton Keynes once again this year.
ITI Chair, Paul Appleyard, began proceedings by describing how, during a particularly demanding year, the entirety of which was under the cloud of the pandemic, ITI's members rose superbly to the challenge they faced.
"The ITI Community took up the challenge of Covid, responding magnificently to the new situation and ensuring that we didn't simply become perfect strangers. Our online coffee mornings were a chance to learn about different parts of the country (and the world), to hear about people's interests and hobbies, as well as to share tips on ways of working." He went on to describe how the ITI Networks had also responded by offering book clubs, revision groups and friendly rivalry with other Networks in virtual pub quizzes.
Paul Wilson, ITI Chief Executive, highlighted that even with the uncertainties that were experienced throughout the year, membership continued to grow. On the day of the AGM he reported that membership currently stood at 3109 — a significant achievement. He continued "From the position at the start of the year when we were concerned as to how we may stem any potential losses we were able to deliver business as usual with new online enhancements, such as the range of sell-out courses which, from the feedback we have received, have all been very popular."
He explained that as well as all the work on building and maintaining the ITI community at a time when many members felt very isolated, the ITI team was also busy pushing forward with the project to completely replace ITI's aged database with an integrated customer relationship management system and new website. This went live in July and has been a great success. Members can now more easily access information about the activities of ITI and its Networks and can book and pay for courses and subscriptions online. The website has grown significantly, and all the statistics of unique visitors and page views point towards it going from strength to strength.
Attendees were once again highly engaged in the online question and answer session that followed the formal proceedings and this year were also able to speak, rather than simply type their questions.
ITI members can view the amended Articles of Association that were approved by Members at the AGM.