ITI Profile: Chris Alexander Student
Hello! After completing a degree in Spanish and History with the Open University I am now studying for the Masters in Translation also with the OU.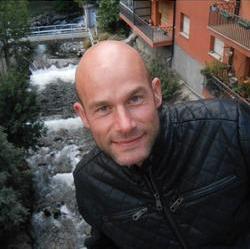 I am about to begin the final module which is the extended translation with commentary. As I wish to specialise in travel and tourism I am currently looking for a suitable text in this field to translate. At present I live in my hometown of Newcastle but the big plan for this year was to move to Girona in Spain to live with my girlfriend. However, due to the health crisis this plan has been put on ice for the foreseeable future until things get back to 'normal'.
My language pair is Spanish to English. I first fell in love with the Spanish language when I travelled round the world for a year and spent some time in Argentina. I liked the language and the country so much that I returned, and taught business English in Buenos Aires after gaining a TEFL qualification. Prior to this my level of Spanish was very basic having only self-taught myself with books and CDs, but once I was out there, fully immersed in the language and the culture, my language skills and fluency improved immeasurably. Having learnt the language in Argentina my Spanish friends are quite amused by the Englishman who speaks Spanish with an Argentinian accent!
As someone who is currently trying to break into the profession I thought it fundamental to join the ITI as I believe they offer fantastic support for anyone starting out. There is an abundance of online material and courses to point you in the right direction, together with regular webinars from industry experts. There are also different groups to join related to your geographical location, language group or specialisation. It can feel quite lonely and bewildering to start off with but having the ITI to support and motivate you really helps with this.
In a few years time I hope to have a successful freelance translation business in Spain specialising in travel and tourism. Working for agencies I would also like to have my own private clients. There should be plenty of opportunities as the Costa Brava is a hotbed for tourism. I would also like to see myself travel up the ITI ranks from student to full professional member working really hard on the continuous professional development programme they promote. I think it will be hard work but as translation is something I love to do, it will be worth it!