ITI Profile: Emma Becciu Associate
We talk to Emma Becciu AITI in our ITI Profile series.
When did you decide you wanted to work with languages?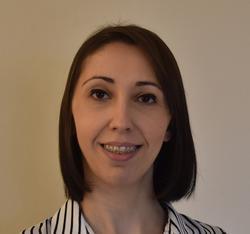 I have always loved languages and I am not sure I can place the exact moment it started. I am from a bilingual region in Italy and my father's first language was Sardinian, so conversations at home were constantly switching between Sardinian and Italian. I also remember my godmother sending me all the Martine books from Belgium even if I didn't know any French back then. I was just learning to read but I used them to practice anyway and I would try to guess what I couldn't understand. I believe my love for languages has always been there.
And why translation?
There are two obvious sources of inspiration: Olga Fernando for interpreting and Queen for translation. When I was about 12 years old, Olga used to appear on TV on a late-night talk show when there were foreign guests. During the school holidays, I used to stay up late to watch this show and I was fascinated by her job. She is probably one of the most famous interpreters in Italy at the moment and she appears on all the major programmes, I wouldn't need to stay up so late to see her now!
Around the same time, someone introduced me to Queen. I had no knowledge of English but the library had two books with their lyrics accompanied by translation on the side. I borrowed them and religiously copied the lyrics and learned their meanings.
Do you have any specialisms?
I have mainly specialised in tourism and wellbeing. I would love to work in literary translation and I am actually attending some courses in order to gain more expertise in that area.
Tell us about a recent translation assignment you are proud of.
The one I am most proud of in general is a job from about a year ago. I subtitled a documentary titled Yo Galgo about Spanish greyhounds and how they are used and discarded after the hunting season. It was hard due to the subject and the images, but I learned a lot with it and I feel I have done something good, not just another project.
Tell us about some of your voluntary work, and how it has helped you.
I collaborate with TWB and TEDTalks, but I think the experience that helped me the most has been interpreting for Agape Centro Ecumenico. It is a community in Piedmont which organises some international meetings in the summer for which they hire volunteer interpreters. The whole experience is life-changing in different ways and I learned a lot; I went three times. The first time was during my language studies in Italy and I had only had a brief introduction to simultaneous interpreting, but the idea was suggested by our professor so I decided to apply. I was not ready in the least and that taught me some humility and the need for proper training - you cannot improvise yourself an interpreter. After obtaining my degree in T&I, I went back and the result was much better.
What do you find useful about ITI membership?
I have only recently joined so I hope there is much still to discover, but in these few months I have already had a chance to meet some colleagues in person, thanks to an event you organised and I hope to join the regional group soon as well. CPD is another great factor; I am already looking for some courses to do in the near future and using the ITI tool to keep a record of those I completed in the past year has given me a clear picture of what I have achieved and what path I want to follow in the following months.
How would you like your career to develop over the next five years?
This is a tough question. I took a break not long ago for several reasons and went back to full-time employment for a while. After thinking seriously about what I wanted to do, I am happy that I am now back to working as a translator even if only on a part-time basis. I am allowing myself time to study as well before I dedicate myself full-time to self-employment. I don't have a set plan yet but that is the long-term goal - should we repeat this in five years and see what has happened?
You are an enthusiastic blogger – tell us about your blogging.
I started blogging a while ago about anything related to languages, but the format and the style of the articles and the whole blog were too chaotic and I was not happy with it, so I decided to stop for a while. When I launched my website, I decided to go back to blogging and I reworked some of the old posts that I liked. I have a section about grammar rules in English and Italian but I am mainly focused on sharing bits of the British culture that are not that well known in Italy, like Bonfire Night or Trooping the Colour.
I also share a blog about travel with my partner but it is suffering from all the other engagements we have. I would like to refresh it a bit but I am not sure yet how to do it. It is a sort of travel journal and a way for our family and friends to stay updated with our trips without having to go through those dreadful afternoons looking at thousands of photos that are not interesting for those who were not there.
What would be your ideal holiday?
I am tempted to say one with an unlimited budget. I love travelling, no secret there, and there are many places I would like to visit, almost everywhere in the world. I have many places on my bucket list, mainly from books, movies or even songs, but I am now trying to travel more consciously and to reduce the impact of my travels on the environment, therefore some destinations will have to wait for the moment. My ideal holiday is probably one that allows me to explore the different sides of the culture of a country: food, art, environment, and language. Let's say a backpack, trekking shoes, a few nights in each location, a map, and some space for last minute changes.
Who is your favourite Italian author?
I am terribly biased on this. My best friend and sister at heart is a writer; her fourth novel is in the final stages before publication, and I am lucky that her genre is one I like, so she really is my favourite Italian writer. Her name is Claudia Musio, if you want to look her up. Her first novel was actually the subject of my dissertation when I graduated in Italy and I am afraid this answer could become an anthology on her work, but I am trying to contain myself. One of her novels has been translated into Spanish but none so far into English and I have thought for a while of reaching out to some colleagues to see if we can push it, so I guess this is a shameless call to any literary translators who might be interested.