FIT panel: The role of indigenous language translation in the midst of climate change
The Role of Indigenous Language Translation in the Midst of Climate Change: Negotiating displacement, loss of land, language and culture.
FIT invites Indigenous experts and anyone interested in Indigenous matters as well as all translators, interpreters and terminologists to attend a free webinar on the topic of climate change and its impact on Indigenous language, culture and way of life. For Indigenous peoples world-wide, climate change constitutes a human rights issue. But how much further has climate change affected Indigenous ways of life in terms of language and culture? How are some of these changes reflected in critical discourse, in oral and written texts, and in day-to-day language revitalization? How do Indigenous languages grapple with the emergence of a strange new scientific language that describes the phenomena of climate change? And how can translation here become a force of change addressing these narratives?
The panelists from Canada, South Africa and Russia will each address the topic from a different perspective, presenting on and interacting with the challenge of climate change and the role of translation in contending with displacement, loss of land, language and culture. The session will consist of presentations by each of the panelists followed by a discussion and a question-and-answer session.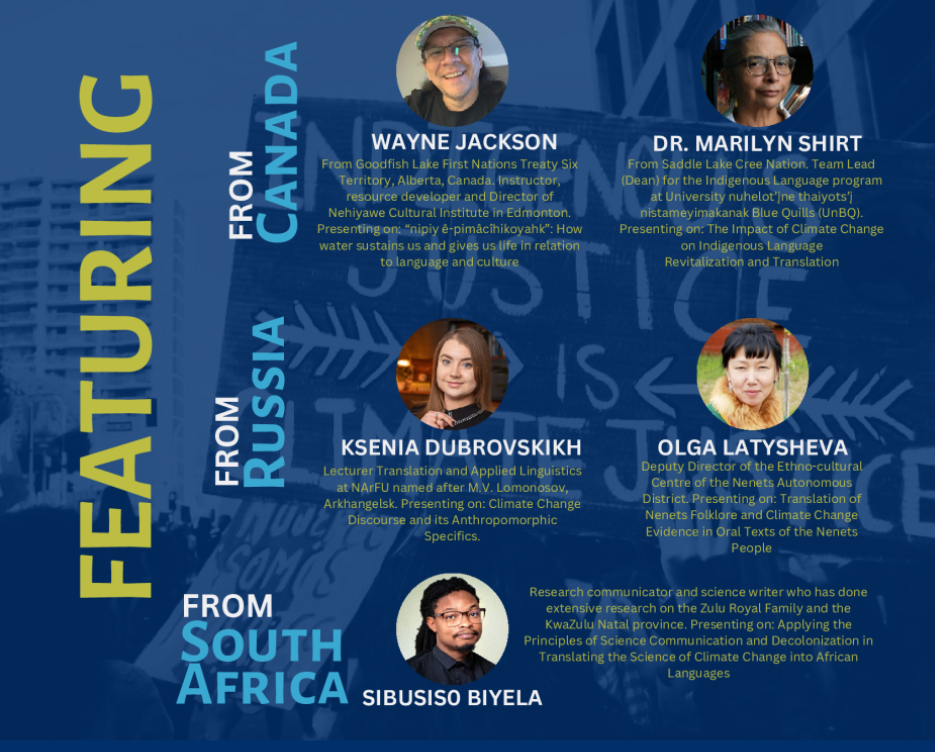 The webinar will take place on Zoom on Saturday 25 November from 6-9pm CET, and it will be mostly in English. There will be interpretation into English for presenters choosing to speak in their own Indigenous language.
Location: Zoom
Fee: The event is free and open to all, but registration is required