Keyboard shortcuts to boost your productivity
In this 3-hour workshop, you will learn a wealth of time-saving tricks to increase your productivity as a translator.
Discover how to optimise your PC for better performance, undertake time-saving keyboard shortcuts in Windows and Word, install free programs to get daily tasks done more efficiently, and customise your mouse for one-click online searches.
Plus, you'll also receive printable cheat sheets, Joachim's 10+ page compendium of keyboard shortcuts, and the trainer document with even more tips and tricks.
Run by a translator, for translators, you'll be amazed how the shortcuts will help reduce your translation time so you can be more productive and focus on the things that matter to you.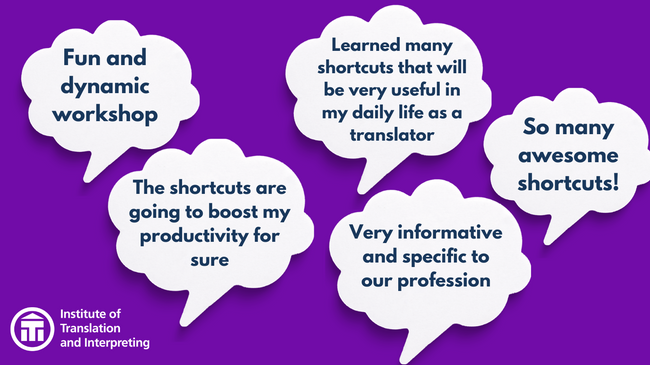 Following the workshop, you will:
Know how to make your Windows environment more translator-friendly
Have a printable list of the best Windows and Word shortcuts for translators to keep on your desk and help you work more efficiently
Also have a more extensive list of helpful keyboard shortcuts, including in Windows, Word, Excel, PowerPoint, Trados and memoQ
Know about free software you can download to save you time on everyday tasks
Have immediate access to crucial symbols and characters from anywhere on your PC.
To get the most out of this workshop, we recommend that you have two screens.
Read about the speaker