Extending our reach
ITI members explain how they've been spreading the word about translation and interpreting in the wider community
Outreach is a key part of ITI's work, but how is it carried out? We spoke to three ITI members: Claire Storey, the ITI Outreach Champion for 2021, whose outreach work has been mainly focused on schools; Emma Plested, the director of a language service provider (LSP) as well as joint coordinator of the Western Regional Group (WRG), who does a lot of outreach with the business community; and Kari Koonin, who chairs ITI's Professional Development Committee and whose outreach work now focuses on outreach to university students.
What were your motivations for getting involved in outreach?
Claire: A desire to go and tell young people about languages, particularly as you hear so much in the news about the decline in pupils studying languages at GCSE and beyond.
Emma: If the business community doesn't know or understand what translators and interpreters do on a broad scale, then its members probably won't come to me for help when they need it – and even if they do, they probably won't fully appreciate the value of what I can offer.
Kari: Once I had progressed some way in my career, I wanted to be able to share my enthusiasm for and knowledge of our industry with others, being aware that many people know very little about translation and interpreting. There are three main strands to this: spreading the word in business and industry about the benefits of using properly qualified translators and interpreters; encouraging young people to consider studying languages and using them professionally; and talking to language students about life as a freelance translator or interpreter and how to become established in our industry.
What different outreach activities are you involved in at the moment?
Kari: I frequently give talks to master's students at universities on various aspects of our industry and the benefits of joining a professional association. Anyone can set up as a translator and interpreter, and I want to get the message across that being a member of a professional association sends a signal that you take your profession seriously and are committed to being the best you can.
Emma: Some of my outreach is as part of my role as joint WRG coordinator, and some of it is in my own name, as a translator and language agency director. The WRG outreach tends to be to the two main universities in our catchment, Bath and Bristol, with the dual aim of attracting new members to our regional group and central ITI and raising awareness in students of the day-to-day realities of working as a professional linguist. So we have done translation slams, workshops on how to quote to clients, seminars on the benefits of ITI membership and so on.
For the business community, I have co-authored a series of blogs for the Business West Chamber of Commerce, aimed at raising awareness of what translators and interpreters do in a commercial setting, with pro tips on what to do if you ever need one. In fact most of the business activity I do is focused on outreach in some way, even if it's not a specific event or initiative. Even my company blog and Twitter account are directed at my imagined customers rather than fellow linguists and always tailored to a specific stage of the buying process – awareness, consideration or purchase. I also do a lot of awareness- raising activity through different chambers of commerce.
Claire: My outreach work has mainly been in schools and includes occasions when I might be talking, as part of a panel session, about choosing a language at GCSE – to years 8 and 9, depending on what the school structure is. This is where panel members talk about what we have done with our languages so that pupils can see where language learning might take them.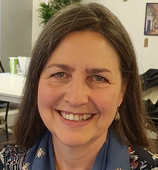 Laurence Bisot, chair of the North West Translators' Network (NWTN), explains how the NWTN does outreach work with local universities
Outreach to universities isn't just a way of spreading the word about our profession and about how to bridge the gap between graduating and starting work as a freelancer. We are also very keen to show students how being part of a network gives them the support of colleagues and allows them to benefit from more experienced colleagues' advice.
A number of our members teach at universities. This has helped us to build links with them and their academic staff and, most recently, to deliver online presentations and panel sessions to the universities of Manchester and Central Lancashire.
We've also developed a video presentation featuring interviews with our members, and we use this alongside a panel session to help bring to life what it means to work as a translator or interpreter, as well as discussing how to get started in the real world.
We asked for volunteers from the NWTN to get involved and were really pleased with the response – a combination of more experienced members and those new to the profession as well as a mix of translators and interpreters made for a range of experiences representative of our industry as a whole.
Approaching outreach as a network gives us a greater impact and demonstrates to our audience that they need not be alone. People can perceive translation and interpreting as a solitary, self-employed career, but the outreach work that we do stresses that this isn't the case and that being part of a network at all stages of one's career can be a really positive thing.
What sort of things do the audiences focus on?
Emma: I translate from Spanish, and Spanish chamber members repeatedly tell me that they are bilingual and so don't really need translators. These days I have a little bank of anecdotes and responses to explain how translators can add value even more if you're bilingual. I've obviously been convincing as the chamber board now regularly uses us to translate documents!
Kari: I always find that students are very interested to hear real-life experiences and scenarios, such as how I dealt with a difficult client, how I incorporate technology and efficiency tools into my work, how I developed my specialism – but also, importantly, mistakes I have made and how I handled them. To add humour, I often intersperse my presentations with examples of translation fails – these always come across well.
Claire: In central Derby, many pupils already have heritage languages or home languages so it's not just about French, German and Spanish, which they might be learning at school, but about the skills they already have. I did a session recently with a year 6 group. Many of the children in that session already spoke another language and were used to interpreting informally for their parents or at school. Afterwards one of the pupils said that they hadn't realised that translation was a job that you could do.
Do you have to do a lot of preparation?
Emma: I always prepare, even for casual events. Most chamber events I go to as an attendee involve introducing yourself and giving a two-minute summary of your own business, and so I always tailor that slightly to whichever professional group is likely to be attending. Even for events where I'm just milling around and networking I still always have a quick elevator pitch memorised and ready.
Kari: I prepare PowerPoint presentations for my talks to students, or adapt past ones, depending on the subject and audience.
Claire: If it's a stand-alone event where it's just me speaking then I have sometimes prepared a PowerPoint presentation, but once I've prepared one of those, I can then tweak it for future events. Sometimes, though, I don't need to do any preparation and just go along with an open mind and prepared to talk to people about what I do. I might take along a couple of props such as a dictionary or books that I've worked on; but if you can just talk about what you do, that is of great value in itself.
What advice would you give other ITI members about getting involved in outreach?
Claire: Just to go for it, give it a chance and be open-minded! Try a variety of different sessions out so that you can see what you enjoy and what approach works.
Kari: Think about the kind of audience you are comfortable communicating with. If that's secondary schools, register with one of the outreach organisations such as Inspiring the Future and go out there and spread the word. If it's business movers and shakers, try giving talks at business or industry organisations, including dual-country chambers of commerce. Many organisations welcome ideas for talks for members. But because foreign languages are such a low priority in all areas in this country, it is vital to make your message exciting and memorable, whether you are talking to secondary school students or addressing company executives. And finally, don't forget that any outreach work you do, and the time you spend preparing for it, counts towards your CPD hours.
Emma: I believe outreach is as small as chatting to a stranger about what you do, or as big as hosting and speaking at an event that industry heads attend, and everything in between. So just get chatting! Polish your elevator pitch so it sounds natural enough that it's not an obvious pitch, and practise using it in everyday conversations. Join your local chamber of commerce and see what events you could attend, and then start to think if you could offer any value in speaking at something yourself. Or writing something for a relevant publication.
But the key is always to ask yourself: 'why?' If you know what to achieve, you'll know how to gauge whether you've been successful and whether or not you want to do it again, or something different.
ITI has recently put together some advice and resources to help members get started with outreach work. Follow the links below to learn more.