ITI Profile: Joanna Waller FITI
We talk to Joanna Waller about her life-long career in translation in the latest in our ITI Profile series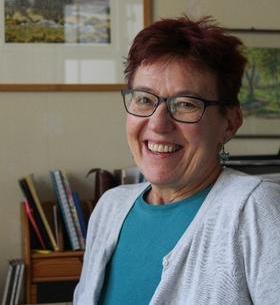 You translate from French, Italian and Spanish into English. How did you come to be fluent in those three languages?
I had a brilliant, inspiring teacher at school, a young Spanish nun, who taught me all three plus Latin at a basic level, then Spanish and French A levels while my tiny convent school arranged for Italian A level classes with a local Italian teacher in the town. We also had a French assistante, and Spanish and Italian fellow students, so the 6th form common room was multi-lingual, and it just went on from there.
You've been working as a translator for around 30 years. What do you see as the biggest changes in the profession over this period?
In fact, it's about 40 years now, and when I started, it was pencil and paper, work delivered by post or by hand, and typed on a little portable typewriter. So the biggest change has definitely been information technology, and for me, translation memory has been invaluable.
How has your career path evolved?
Initially, although I was translating for money (50p a page) when I was a student, I trained as a teacher. I took time off when we started a family, and while my children were small, tried to expand my skills and income from translating. With some huge help from my husband, an electronic engineer and university teacher, I was able to develop my knowledge of technology, especially IT, and that became my main area of specialisation over the years.
How important is CPD to you?
Vital, and always hugely enjoyable. I have added new specialisations through courses, online and in the classroom, kept up and improved my languages, and stayed up to date with technology. I have also been able to learn while teaching, thanks to ITI giving me the chance to share my experience with students.
You are a tutor on the Starting Up as a Freelance Translator course – what do you cover on the programme?
I cover ways of gaining experience as a beginner, especially through voluntary work, providing pro bono translation and interpreting services for charities and NGOs. This is something I have done myself for years, and it has been one of the best aspects of my job. Knowing I am doing something to help people in need, even indirectly, getting to know lovely people, and gaining experience and knowledge in areas I wouldn't otherwise have the opportunity to explore – international development, crisis management, technical and social issues.
Is there a recent project you are particularly proud of?
A few years ago, I was fortunate to be able to help a student doing a PhD in classical sculpture. She needed a lot of material translating from Italian art journals, and she had no Italian. Because I also have 'some Latin and less Greek', I was able to be very useful to her and it introduced me to a whole new area of expertise. I now include art as one of my specialisms, having done a lot of CPD in this area. I have also found a niche with a USP in combining my thorough knowledge of IT and electronics with the art, to offer services to museums and galleries needing translation in the field of art technology, for installations, virtual reality and large-scale projection displays. One such is the new installation showing the ceiling of the Sistine Chapel in Rome, with detailed projection and commentary, for which I did some work for the company which provided the high-definition projectors.
What are your ambitions?
To keep doing the job I love as long as I still have enough marbles rattling around in my head! I am so fortunate that I have been able to build a career, as a freelancer, earning sufficient to pay my way and still have the flexibility to look after my children and grandchildren at home, do voluntary work and travel. It's a great way to earn a living!
What's the most important piece of advice you could give to someone starting out in the profession?
Keep up to date in the field – watch the way technology is changing, hone your skills in language, subject, business and on-line. And the simple things – be reliable, polite and pleasant to work with, have good typing skills (still important) and read a lot, in all your languages.
Tell us a little about your work in the voluntary sector.
Since I was a teenager, I have been a member of a voluntary organisation, the Society of St Vincent de Paul (look it up) which gives personal help to people in all kinds of need at a local level. My family is closely involved in the SVP and several of us contribute to it as members, trainers, organisers, etc. It is a very practical, effective way to support people in their daily struggles. The SVP started in France in the 19th century and it has a number of official languages worldwide, including French, Spanish and English. I have been translating for the head office in Paris and other branches around the world for decades, and it has been and continues to be very rewarding and hugely interesting, as SVP work is so varied and constantly developing as the needs change in various countries.
What would be your perfect city break?
I love Bruges and Paris, but I also love visiting other parts of France, as I have friends all over the place. I think a great city break is probably in a new city, maybe Geneva, where I have never been, or else the Baltic states, maybe Tallinn, where one of my nephews lives. We have family all over Europe, from Slovakia to Ireland, Malta to Sweden – I hope that we can continue to travel freely to visit each other after next year!