ITI Profile: Maha El-Metwally FITI
We talk to Arabic conference interpreter Maha El-Metwally, who has recently become an ITI Fellow, in the latest of our ITI Profile series.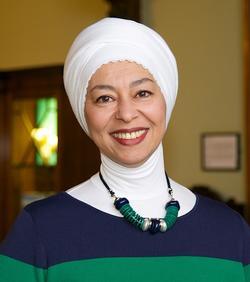 Growing up, what were you interested in as a career – did you always want to work with languages?
I have always loved languages. I went to a bi-lingual school where half of the subjects were taught in Arabic and the other half in English. I did my first translation at the age of eleven. It was a school song. As a reward, the music teacher let me sing the translated version at the school end-of-year party. I went on to study English and comparative literature at the university. I did French, Dutch and Bosnian at different stages for non-professional reasons, but all this came in handy when I finally decided to focus solely on interpreting.
When and why did you decide you wanted to be an interpreter?
At first, I did more translation than interpreting. It fitted more in my family situation when my children were still young. But I have always enjoyed travelling and meeting new people so interpreting fits more with my personality really. So, as the children got older, I started to seek more interpreting assignments till this became my main focus.
Did anything surprise you about working as an interpreter when you were starting out?
I was surprised to learn that there is no such thing as trivial information. Any bit of information is useful information as one never knows what kind of examples speakers will use or what kind of events they will refer to.
What are your specialisms?
As a conference interpreter, I do a variety of subjects. There are recurring meetings and this allows me to dig deeper into some fields but I never felt the need to specialise. I enjoy the variety of topics I deal with and I wouldn't want to restrict myself to certain topics.
You've undertaken assignments in refugee camps – what did you find challenging and rewarding about these experiences?
The challenges were many:
Psychological as you are dealing with people who often enough have been through traumatic experiences
Practical as you are not working in a normal setting. Things we take for granted like the availability of food, drink, heating or toilets may not always be easy to come by
Linguistic, especially for a diglossic language like Arabic, as you will be working with several dialects
However, being able to help people, who otherwise are not able to communicate with officials running the asylum process, is very gratifying.
You are on the Human Rights Committee of the International Federation of Translators – what does that involve?
My chosen role on the Human Rights Committee is to raise awareness about the plight of interpreters in conflict zones. These are interpreters who worked for Western armies in Afghanistan and Iraq with the clear promise that they would be resettled in these countries. However, most of them were left behind which put their lives and their families in danger since they were mostly seen by their compatriots as traitors.
What have you got out of your ITI membership, and how have you found the responsibilities of being on the Board?
I have gained a lot from my ITI membership: new colleagues, new skills, continuous professional development, and chances to give back to name but a few benefits.
Being on the Board required some time to understand how things worked. I needed to find out which of my skills would be put to the best use on the Board. I have learned a lot through being on the Board which consists of a group of very giving people with different backgrounds and skills. It is exciting to help shape the future of the Institute and contribute to serving the members better.
What did you feel like when you heard you had achieved ITI Fellowship?
Really happy! It is a milestone. I started out as an associate then a full member and after ten years of developing myself, becoming a fellow is an important step in my self-actualisation as a professional.
What's your favourite food?
I like a lot of dishes from different cuisines but if I have to name a favourite now, it has to be my mum's "mahshi." It is a traditional Egyptian dish made of vegetables stuffed with a special rice mix. It's delicious!
What would be your perfect weekend away?
That would be a weekend in a city I hadn't visited before with a nice old town. I like exploring narrow traditional alleys with interesting architecture and independent shops.