Uniting for a sense of community
Just because you work alone doesn't mean you can't unite with others in your local area and benefit from a sense of belonging and community.
Even before the challenges of a global pandemic, working as a freelance translator could feel lonely and isolating at times.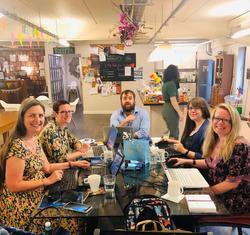 It was this feeling that spurred Kate Lo to investigate the opportunities of coworking with fellow members of the North West Translators' Network. Now more than three years on coworking is firmly established and serves to unite fellow translators in a common space where they can network and exchange ideas, but most importantly feel like part of something larger.
Here, Kate and two of her fellow coworkers explain how they have benefitted from uniting with a community of translators.
Kate Lo MA AITI
Some might say that I've taken a circuitous route to end up where I am as a freelance translator! After graduating from Liverpool John Moores' University with a BA in Modern Languages, I joined the Home Office and worked in law enforcement as an Immigration Officer for over 13 years. I decided I was ready for a change in career direction, after having enjoyed several postings abroad attached to the Foreign Office which had given me a taste for using my languages again.
I took the plunge and studied a Master's in Interpreting and Translating at the University of Salford in 2014 and completed an internship in a translation agency in Barcelona when I graduated, which gave me the boost I needed to set up as a freelance translator on my return to the UK.
After two years or so, I realised that the culture shock of changing from working in a busy office to working solo at home and the associated feelings of isolation were really starting to affect me. I reached out to a friend who also worked freelance and she nudged me to contact the NWTN to ask if I could arrange some coworking sessions. My colleague and (now) good friend, Laurence Bisot, had already started to attend coworking at a pay-as-you-go space but it was always on a Friday afternoon which didn't fit with the way I worked.
Fast forward another year, and not only had I joined the NWTN Committee but we were hosting coworking sessions in the same space for members on a fortnightly basis, as well as coworking together in a different space that offers more home-from-home comforts. We established a core group of 'regulars' with other members popping along when they could – at our peak, twelve coworkers attended and we were spread out across two large tables!
It's been an absolute lifeline, not only to me, but to others who have attended our sessions, as it's given us the opportunity to meet members face-to-face in an informal context, while providing each other with both linguistic and business advice, and fostering networking and mentoring opportunities for our members as a whole. When the pandemic hit, I realised that there was a risk that others, like myself at the start, might suffer from feelings of isolation and so it got us thinking about how we could come together virtually. We set up weekly 'Bake Off' Zoom chats which morphed into our Working Lunch chats where we discuss a different business topic each week.
While these Zoom chats have been a real success and are here to stay, the chance to be reunited at our coworking spaces again has been an absolute relief and delight! It saves Laurence and I so much time in keeping each other updated on Committee matters, and it gives me a break from the same four walls at home. I'm looking forward to seeing some familiar faces return to our coworking, as well as welcoming new members who have been drawn to the NWTN thanks to our jam-packed schedule of events!
Kate is a Spanish/French to English Translator and NWTN Events Team Leader

Roz Howarth MITI
I have been a freelance French to English and French<>English Translator and Interpreter for 13 years now, specialising in legal, CSR, business, IT and education. I worked in the IT sector for six years, before leaving to pursue a Master's and a more flexible lifestyle.
I really enjoy the freedom that being my own boss entails, and I like working from home. However, over the past few years I have been spending some of my working days 'co-working' in an office. I have tried out different offices in Warrington, Liverpool and Manchester either on a one-off basis, or as a long-term flexible arrangement.
While I enjoy working at home, I do find that there are many advantages of working in a shared space with others. I find it much easier to focus and avoid getting distracted by other tasks (as I tend to do at home). It's also great to catch up with colleagues and meet people, and I think being in a different space can help with creativity. As there are so many co-working spaces now, the prices tend to be competitive and often include coffee and food. I think co-working has certainly helped me to connect with others and avoid the isolation that freelancing can bring.
Due to the pandemic, I haven't done much co-working over the past 18 months, unless you count being alongside my family at home during lockdown! I hope that will change in the coming months. I already have one co-working day lined up with colleagues soon, which I am really looking forward to.
Kirsty Olivant MA (Alicante) AITI
I studied an MA in Translation and Interpreting at the University of Alicante after finishing my BA in Modern European Languages at the University of Liverpool. From 2003 onwards, I started doing small translations alongside my full-time job teaching English in Spain, ranging from texts about underfloor heating and awnings to contracts and menus. After moving back to the UK in 2017, I set up as a freelance translator and now work mainly with technical, medical, legal, marketing and tourism texts, translating from French, German, Spanish and Catalan into English.
I joined the NWTN in June 2018 and heard about their coworking sessions. Having moved to an area where I didn't know anybody, coworking presented itself as the perfect opportunity to get out of the house and meet like-minded people. Compared to more formal events such as courses and conferences, coworking is a lot more relaxed but still very productive.
Although there is some chit-chat during the course of the day, everyone is usually quite disciplined and gets on with their work, catching up during the lunch break or over a glass of vino at the end of the day. For me, it has been a fantastic way to make new friends and learn about other areas of translation with which I am unfamiliar. Fellow translators are often able to help with software issues and terminology and provide other helpful tips and insights. The chance to speak in my source languages with native speakers is also highly appreciated.
All in all, I would say that it is an extremely positive experience that I would recommend to anybody considering it.
If you are an ITI member and are inspired by the NWTN's experiences, watch the recording of our webinar to find out more about setting up your own coworking group.