ITI Profile: Pilar Izquierdo Bellido Student
Now that I have found my vocation as a translator, I often wonder how translating didn't appear to me before as the most logical and obvious path.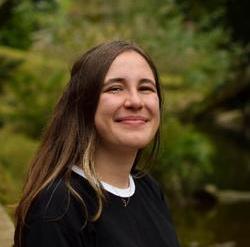 It seems to be a cliché for a translator, but I was genuinely interested in languages since I was a child, especially English. I wanted to live in the UK from a very young age, and would often spend hours listening to English music trying to understand the lyrics and, as a teenager, watching English TV shows in my room.
All the signs were there. And they pointed towards a career in English-Spanish translation. However, I took a small detour via Ancient Languages. By the time I finished my secondary education, I decided to study an undergraduate degree in Classics (Latin and Ancient Greek) at Universidad Complutense de Madrid. I call this a 'small detour' as I believe it helped me build a deep knowledge of Indo-European roots and languages and establish a solid base for my future translation practice. In fact, those modules where I translated the Classics were, without a doubt, my favourite ones in my entire degree.
It wasn't until the last year of my degree that I could take a year abroad and my choice of destination was always clear. I moved to the UK in 2017 and never went back. I had the most incredible year at University College London (UCL) and, most importantly, I discovered Translation Studies for the first time. It was studying the different translations of Latin poetry into English where I finally fell in love with the discipline of Translation. At this point, I finally realised where all the signs were leading me and I embraced this new path with enthusiasm.
I started my MA in Translation in September 2019 and it has become the most exciting journey of my life. I have learned about the theory behind translation and I have performed translation to a degree I would have never thought possible before. During my Master's, I have specialised in literary and legal translation. In my professional life, I have already started working as a Legal translator and interpreter and I recently finished a work placement translating documents, from English into Spanish, for the European Forum of Restorative Justice.
Soon after I started my Master's, I joined the ITI on the recommendation of my tutors, and I have never looked back. Coming from an Academic discipline like Classics, I was truly awe-struck by the incredible sense of community and collaboration which translators have. There are infinite support networks available and all of the ITI staff and members are approachable, helpful and supportive. If I have learnt one thing this year it is that, being a translator, you should never underestimate the power of networking and peer support! It was through the ITI that I was given the opportunity to write a piece for their Student Bulletin, IgnITIon, where I put my thoughts onto paper and shared my views on L2 Translation.
In a nutshell, this has been my first year as a member of the ITI and it has helped me enormously, not only by becoming a better translator and interpreter, but a better professional. My aspiration is to become a full time freelance translator. Becoming an affiliate member of the ITI will prove to be a very important qualification and resource in my future career and I look forward to many more years to come as a member.